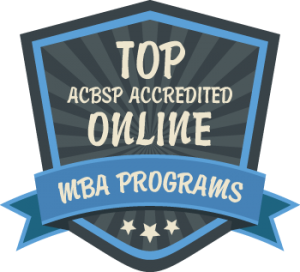 MBA programs don't attract dummies, which is why you already know how important it is to get admitted to a fully-accredited school. The best thing you can do with an MBA is get into a line of work you love and clean up every year with a salary that puts you in a respectable bracket. The best way to find that MBA is to start by looking at the accreditation status of business schools.
That's why we put together this list of the top online MBA programs with accreditation from the Accreditation Council for Business Schools and Programs (ACBSP). As one of only three specialty accreditors that specifically and exclusively look into the quality and credentials of business schools and the programs they offer, the ACBSP is one accrediting organization you should take very seriously when considering the best online option for your MBA. From top-paying jobs in banking to the most ambitious CEOs of innovative start-ups, you'll often find ACBSP-accredited MBAs were part of the story of how they got to where they are.
You likely already know that most colleges or universities in the country are accredited by one of the regional or national accrediting agencies recognized by the Council for Higher Education Accreditation (CHEA) or the U.S. Department of Education (USDE). Chances are that's something you paid attention to when selecting a legit school for your undergrad degree. But standard university-level accreditation by itself doesn't really tell you anything about the business school specifically.
The standards of business training are outside the scope of the standard accreditation process. All the special magic that goes into training future managers and executives, the accounting and financial subjects, the ethics and legal issues… it's complicated stuff. And it takes a particular and specialized evaluator to weigh it against the expectations and standards of the larger business community.
That stamp of approval is particularly important when looking at online programs. Since you can't spend the kind of time on campus to check out the faculty and look at the resources the business school is putting into the program, you need to make sure it gets a thumbs-up from someone you can trust. And for a lot of schools, that someone will be the ACBSP.
<!- mfunc feat_school ->
How The ACBSP Differs From Other Specialized Business Accreditors
There are actually three different specialized business school accreditors:
AACSB – Association to Advance Collegiate Schools of Business
IACBE – International Accreditation Council for Business Education
ACBSP– Accreditation Council for Business Schools and Programs
Each of them has different elements they look at when determining the quality of a program and independent standards for accreditation, whether it's mainly strict curriculum guidelines or a focus on student outcomes. For the ACBSP, the focus is squarely on teaching and learning.
The organization was founded in 1989 to address a gap in the business accreditation process. The only specialty business accreditor at the time focused primarily on accrediting research institutes. That was great, a necessary part of any advancing field, but it left a lot of qualified and dedicated teaching programs out in the cold.
That's why the ACBSP stepped up to fill that gap with a set of standards designed to promote teaching excellence. The agency puts schools through a two-year process that dives deep into:
Faculty background and qualifications
Planning and evaluation cycles
Staff participation
Outside business partnerships
Curriculum content and design quality
Program performance and outcomes
The council doesn't just throw schools into this process cold, though. A mentor is assigned to help them through the process and to make adjustments to meet the high standards of accreditation. An on-site visit caps off the process, with a team of accreditors prying into every aspect of a candidate program to find any gaps before ultimately making a decision.
How We Evaluated Schools For The List
So you can see how ACBSP accreditation ensures that MBA programs meet the high standards that you should demand in a quality business education. But that's just the start. The council accredits nearly 3,000 programs at 430 campuses worldwide. We wanted to cull the list to give you only the cream of the crop to choose from.
Our biggest step was to search for programs that were genuinely, 100%, no exceptions, entirely online.
Online learning is where it's at today—flexibility, speed, and quality all coming down the wire for you to access whenever and wherever you have time to study. But a lot of programs that take on the online label aren't really completely online… many require orientation or occasional class work on site. That's a non-starter if you're taking a class from halfway around the country.
Since 100% online is what you're after, 100% online is what you'll get with our list. Every program featured here is one you can complete without leaving the house, from application to graduation.
We feel strongly that going with online coursework doesn't have to mean compromising quality. So we also looked at programs showing exceptional merits in terms of:
Faculty qualifications
Outside business partnerships
Number and quality of available concentrations
Quality and breadth of online learning systems
TopOnline MBA Programs with Specialty Business Accreditation From the ACBSP
What we came up with is a list of what we feel are the absolute best ACBSP-accredited MBA programs from around the country available entirely online. You can be sure that one of them is the perfect choice for you.
---
This list features programs that our editorial staff hand selected to present as top recommendations. We believe the many aspects of a program that come together to create an exceptional student experience can't be reduced to numbers alone, so no formula was used to attempt to score or rank these programs. Instead, they represent our top picks based on a thoughtful review of the things we know mean the most to students. Each one of these programs offers something unique, and all come equally highly recommended. We stand behind the principal of editorial integrity and make these recommendations independently and without compensation.
---