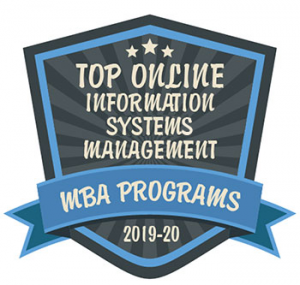 It used to be pretty common in the business world to hear the phrase "The future is digital." You don't hear that so much anymore, though. That's because the future is now.
Business in the 21st century has been almost entirely transformed by the rise of cheap data storage, processing power, and the increasingly ubiquitous connectivity of the internet. No matter how traditional the managers are or what the industry is, there just isn't any company in business today that hasn't been touched by the trends introduced by information technology.
And there's no business that will still be open tomorrow if it doesn't adjust to keep pace with the rapid evolution of that technology. Wireless, cellular, mobile, big data, and social media are all continuing to push the boundaries of how business is done. And not far down the road, you can see artificial intelligence looming as the next wave ready to break across the shifting sands of the markets. That puts technology management front and center among the coolest things you can do with an MBA.
They are all trends that demand business leaders with a powerful command of not only commerce and financial matters, but technological considerations as well. That's why a master's of business administration with a specialization in information systems management is one of the most valuable degrees you can earn today to guarantee relevance and success for the rest of your career.
<!- mfunc feat_school ->
How To Evaluate MBA Programs in Information Systems Management
Like any in-demand specialty, MIS concentrations have sprouted like weeds in recent years. There are so many, in fact, you might feel like you'll need to deploy some of those advanced analytical skills before even starting your program just to pick the right school.
Smart applicants will start with an outside screen, the kind of algorithm that coders use to sort data. One of the best filters is to simply start with a review of the accreditation status of the program.
Any university worthy of the name is already going to have at least a general accreditation from one of the major regional or national accreditors recognized by CHEA, the Council for Higher Education Accreditation or the U.S. Department of Education. It's pretty much a given that the university meets such basic standards.
But it's not a slam dunk that the business school will also have a specialty business accreditation from one of the three bodies that exclusively accredit business schools and programs:
AACSB – Association to Advance Collegiate Schools of Business (certified by International Organization for Standardization (ISO))
IACBE – International Accreditation Council for Business Education (recognized by Council for Higher Education Accreditation (CHEA))
ACBSP – Accreditation Council for Business Schools and Programs (recognized by Council for Higher Education Accreditation (CHEA))
But you had better choose one that does—which is why we've held every school on this list to that standard.
These organizations take the basic principles of accreditation and apply it to the elements of business education. Through document review, interviews, and site visits, they look into the policies and practices of the MBA program to validate them against the standards of the international business community. Through close relationships with both academic and commercial organizations, they keep close tabs on what businesses want to see in MBA graduates, and ensure that the programs they approve deliver those qualities and skills.
Sifting The Details In A Detail-Oriented Field
Knowing what you are doing as an IT executive is a stark binary state, just like IT itself. If an application is expecting a one and gets a zero, you're out of business. There's not a lot of room for ambiguity or nuance. A finely-tuned press release or getting motivational t-shirts printed up isn't going to paper over it. When you go into IT management, the people you are managing are going to know whether or not you have a command of the material… and do you want to guess how much respect you're going to get if you don't?
That's why it's important to sweat the details when you're considering what school to choose for your IT management MBA concentration. You need a program that hits just the right note of balance, offering a rock-solid core business education while covering enough cutting-edge technology to give you all the knowledge you need for the job.
Information Technology Brass Tacks
We sought out programs that avoided the basic platitudes and buzzword-heavy course titles in the specialty in favor of schools that offer gritty, focused technology courses in IT theory and current practice. The more up-to-date the curriculum, the better. Technology changes quickly, and schools that keep up were definitely put in the running for our list.
Online Content Delivery Platform
Naturally, every program we selected has at least some online components. You don't go to a mechanic who doesn't change his own oil and you don't get an IT concentration at a school that can't put together an internet-based classroom. But not all online course content delivery systems are created equal, and one that is lacking in it's ability to engage students and allow them easy access to course materials and the ability to interact with instructors can really compromise the student experience and the effectiveness of the program. That's why we kept an eye out for programs that make the quality and efficacy of their course content delivery system and student interface top priority, and gave the schools that did a second look.
Experiential Learning
We also looked for business schools offering experiential learning opportunities. Whether it's a placement in a real business as an intern or a capstone course that involves consulting on a real-world tech implementation project, anything to help you get your hands dirty in the field is a plus.
Industry Connections
Along the same lines, programs that offer technical courses in coordination with a school's information systems department also rated highly. There, you can study side-by-side with many of the technology professionals you'll be working with out in the real world. If a school also had partnerships with outside tech vendors like IBM, that got a big thumbs-up, too.
The Best Accredited Online MBAs with a Focus in Information Systems Management
Basically, we did just about everything for you here to narrow down the right MIS concentration except fill out your application. So what are you waiting for?
---
This list features programs that our editorial staff hand selected to present as top recommendations. We believe the many aspects of a program that come together to create an exceptional student experience can't be reduced to numbers alone, so no formula was used to attempt to score or rank these programs. Instead, they represent our top picks based on a thoughtful review of the things we know mean the most to students. Each one of these programs offers something unique, and all come equally highly recommended. We stand behind the principal of editorial integrity and make these recommendations independently and without compensation.
---