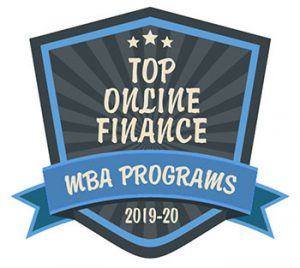 Finance, investing, cash flow… these are fundamental elements of business that every business student will be expected to master at some point in their career.
You could go with a straight master's in finance. And every MBA program in the nation has a class or course sequence that covers all the aspects of finance that go into keeping every business, in business. So you'll have some exposure to matters of finance no matter what MBA program you choose. But those are just the basics.
It's never a bad idea to really explore the different types of finance degrees that are out there. But the world of finance and banking is vast and complex, and if you plan to make a career in the field – and the kind of money those careers are synonymous with – then what you really want is an MBA with a concentration in finance.
A finance concentration will take you deep into the arcane details of finance and banking. Programs exist that have courses in everything from investment analysis to financial psychology to detailed studies of market derivatives. You can even find MBAs that drill down even further to big money considerations with a concentration in corporate finance. With an MBA with a finance specialization hanging on your wall, you can shoot for positions as varied as hedge fund manager, investment banker, or hot shot Wall Street trader.
But first you have to pick the right program.
<!- mfunc feat_school ->
Accreditation Separates The Wannabes From The Winners in MBA Finance Concentrations
That's where this list of top MBA programs with finance concentrations comes in. Achieving mastery in the world of business finance is easily one of the best things you can do with an MBA, but finding a great program can be tough. There are more than 1,000 MBA programs in the United States, and a lot of them offer finance concentrations. Not all of them give you the same quality education, though.
So you need to narrow the field, and you should start by making sure you're only looking at quality programs. One way to do it—the best way—is by selecting only from schools that have been accredited by one of the three specialty accreditation agencies exclusively dedicated to evaluating business schools and programs:
AACSB– Association to Advance Collegiate Schools of Business
IACBE – International Accreditation Council for Business Education
ACBSP– Accreditation Council for Business Schools and Programs
Each of these organizations takes a hard look at programs applying for accreditation and puts them through an exhaustive evaluation process to ensure they are hitting all the points that the business community expects MBA grads to master by the time they hit the boardroom.
While they leave specific curriculum decisions to the schools themselves to allow for flexibility and innovation in the educational process, they do validate the processes used to establish that curriculum, the selection and credentials of faculty, and the administrative and grading procedures that schools use to determine student eligibility and graduation.
It's a major, multi-year effort for a school to get accredited, one that involves a lot of paperwork and exhaustive on-site evaluations.
After a business program has been put through the wringer like that, you can be sure it will deliver.
<!- mfunc feat_school ->
But There's More to Selecting the Best Finance Programs
Even after you narrow your window to just all the fully accredited programs that offer finance specializations, though, you still have a lot of schools to sift through. But no worries… we took care of that for you, selecting only the cream of the crop for this list.
We went through them all, program by program, to evaluate the extra criteria that separate a good MBA from a great one.
Business Administration Core
We looked at the general aspects of an MBA education first. Does the program cover all the bases that modern businesses expect in their executive job candidates? Do you get a strong education in communications, marketing, strategic analysis, and leadership skills? Does the school build confidence and decision-making abilities in MBA students?
All these schools do.
Student Experience
Then, we looked at the courses and faculty. Do instructors have real-world business experience to pass along? Are class sizes small enough you can expect plenty of one-on-one interaction with your professors? Does the school offer at least some online options to give you the most flexibility in how and when you can attend class?
You better believe these schools offer all that and more.
Finance Curriculum
Finally, we dove into the specifics of the finance specialization track itself. Even as a specialty, finance is a big topic… we sussed out whether the concentration tries to give you a big-picture perspective on all the aspects of business finance, or offers sub-specializations in areas like investment banking, personal finance, or international finance. One focus or the other isn't necessarily good or bad, but it's definitely something you want to know when you're picking the school, and we ensured the courses being delivered teach you what they say they'll teach you.
Extras
We also checked out, and noted, the cherries on top… the option to take an overseas business trip, for instance, or a particularly strong alumni network in the industry to help hook you up with solid job leads after graduation.
The Best Accredited Online MBAs with a Focus in Finance
Although we're confident that every program on this list is worthy of your consideration, we know that you're on the lookout for something special. That can be different things for different people, but whatever it is that sparks your interest, we're sure you'll find it here.
---
This list features programs that our editorial staff hand selected to present as top recommendations. We believe the many aspects of a program that come together to create an exceptional student experience can't be reduced to numbers alone, so no formula was used to attempt to score or rank these programs. Instead, they represent our top picks based on a thoughtful review of the things we know mean the most to students. Each one of these programs offers something unique, and all come equally highly recommended. We stand behind the principal of editorial integrity and make these recommendations independently and without compensation.
---