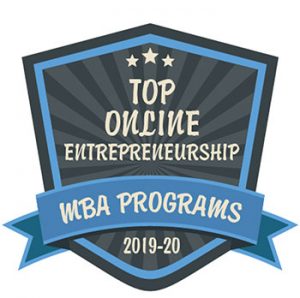 One of the best aspects of earning your MBA degree is that the education you get is absolutely top-to-bottom complete when it comes to business skills. You get the nuts and bolts of basic accounting, marketing, operations, and law and regulation. At the same time, you get a high-level perspective on markets and marketing, strategic planning, financing and funding matters.
What this means is that after you graduate you're as well-equipped as anyone in the country to start up and build a new business from scratch.
If that's your dream, then it's well worth considering an MBA program with a specialty concentration in entrepreneurship, or maybe a social entrepreneurship MBA is more your bag. In either case, you'll get all the fundamental business building block courses, and on top of that the concentration adds the extra magic that you need to innovate and navigate as a small start-up fish cruising in the turbulent waters with the big sharks of established businesses. And with those skills there is virtually no limit to the kind of amazing things you'll be able to do with your MBA.
It's a set of skills that some of those sharks find valuable as well. The challenge for big business is to retain the spark and agility that comes with the start-up mindset to remain flexible and relevant in ever-changing markets. This means that even if you aren't going to be an entrepreneur, an entrepreneurship concentration can pay dividends.
But first you have to find the right program.
<!- mfunc feat_school ->
Accredited Programs Are Built Solid From The Ground Up
Accreditation is a good place to start your search for an online MBA in Entrepreneurship. A general accreditation in higher education from one of the six regional accreditation agencies in the United States is a must for every serious university.
But for a business school, there's an even higher level that you should look for, a specialty accreditation from one of three agencies in the U.S. that exclusively evaluate business schools and individual programs:
AACSB– Association to Advance Collegiate Schools of Business
IACBE – International Accreditation Council for Business Education
ACBSP– Accreditation Council for Business Schools and Programs
On a program by program basis, these accreditors look at things like faculty selection and standards, curriculum development, grading practices and even administrative and grievance procedures.
Each of those elements of the program is weighed against the standards and practices of the international business community. The execs and managers that serve as association members provide an up-to-date, real-world perspective on the business training and research that companies want and need.
Picking a specialty accredited program is vital to ensure that the education you are getting for your MBA matches the needs of employers and the market.
How We Selected MBA Programs For The List
So specialty business accreditation was where we started, but we didn't stop there. Instead, we took a deep dive into those programs to find the very best options available in the U.S. today… schools that offer something a little bit above and beyond the usual. And we came up with some great finds!
Convenience and Flexibility
First, we picked only programs that have at least some online component. You're busy, you're on the move, you need an MBA program that can give you the flexibility to move on your own path while getting the information and education you need. Online courses let you shift your classwork around to fit into the demands of life and business in a way that any entrepreneur will appreciate. If a program isn't flexible enough to fit your work schedule, it simply isn't going to work.
Quality of Business Core Courses
Next, we validated the core business curriculum at the school. A great set of classes on innovation and funding are nice, but they're wasted if you don't get the right skills that anchor every business: accounting, financing, HR, and strategic planning skills are important in organizations of every size. And since you're building something from the ground up, you have to have a strong command of all of it on day one. There isn't going to be anyone else to pick up the slack.
Networking Opportunities and Support
Then, we looked at support systems available to students. Although it's true that you're on your own at your startup, it's also true that entrepreneurs exist and thrive in a big, interlocking web of community support. Whether it's through on campus startup clubs or university-funded incubators, we tried to pick programs that help you develop your network and build connections before you ever file your first set of incorporation papers.
X-Factor
Finally, we kept our eyes open for the stuff that is truly unique and special. A school that offers an entrepreneurship concentration while still allowing you to study in another specialty track, for instance (after all, entrepreneurship isn't a field!). Or schools that focus on innovation as much as entrepreneurship, giving you the skills and perspectives to take an entrepreneurial mindset into an existing corporation. If a program had a focus on a particular strain of entrepreneurship, for a minority population, perhaps, then we picked it out of the pile. Anything that offers extra value, a feature to stand out from the pack, upped the chances of making the list.
The Best Accredited Online MBAs with a Focus in Entrepreneurship
Keeping an eye to the future is exactly what you'll have to do as an entrepreneur, so you want to learn how from a program that has got that figured out. You'll definitely find the right choice somewhere in this list.
---
This list features programs that our editorial staff hand selected to present as top recommendations. We believe the many aspects of a program that come together to create an exceptional student experience can't be reduced to numbers alone, so no formula was used to attempt to score or rank these programs. Instead, they represent our top picks based on a thoughtful review of the things we know mean the most to students. Each one of these programs offers something unique, and all come equally highly recommended. We stand behind the principal of editorial integrity and make these recommendations independently and without compensation.
---