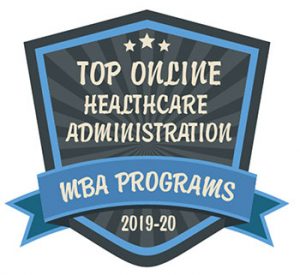 As a professional angling for a top-level executive position in the healthcare industry, you've got a hard choice to make about what type of advanced degree to pursue to help you scale those career cliffs ahead.
A specialized master of healthcare administration degree has been the preferred route in recent years, one that acknowledges that the unique and dynamic landscape of American healthcare operations requires some specialized know-how.
But that landscape is dominated by traditional principles of business and capitalism as well, so an MBA with a concentration in healthcare management is often a natural fit for the most ambitious future healthcare execs.
Healthcare is a $3 trillion industry in the United States, 18 percent of the gross domestic product and the largest segment of healthcare services in the entire world. If that's not big business, nothing is!
And big business is the province of graduates with master's degrees in business administration. Mixing the high-level expertise of business management and operations with industry-specific education in healthcare services and management, an MBA with a concentration in healthcare administration is becoming a popular option for hard-charging healthcare executives.
You just have to pick the right one, meet the qualifications, and then you're off to the races.
<!- mfunc feat_school ->
Which MBA Healthcare Concentration Is The Right One?
There are more than a thousand MBA programs in the United States, though, and healthcare administration is one of the most common concentrations. And among those are even dual degree programs that result in both a Master of Healthcare Administration (MHA) and an MBA.
You may even be stuck trying to decide whether you should go with an MHA by itself vs an MBA.
So how do you choose the right program?
You start with accreditation. Every serious university in the United States is accredited by a regional or national accreditor recognized by the Council for Higher Education Accreditation (CHEA) or the U.S. Department of Education (USDE).
But something a lot of people don't know is that CHEA, the USDE, and even organizations like the International Organization for Standardization (ISO) also recognize a number of specialty accrediting bodies, organizations that have particular expertise in the subject matter being taught… like business… and healthcare… and healthcare administration.
Business
For business schools, there are three recognized accrediting bodies:
AACSB – Association to Advance Collegiate Schools of Business (ISO-certified)
IACBE – International Accreditation Council for Business Education (CHEA-recognized)
ACBSP – Accreditation Council for Business Schools and Programs (CHEA-recognized)
We made sure that each program on our list is validated by at least one of those accreditation agencies, ensuring that they meet higher, and more business-specific, standards for faculty recruitment, curriculum development, and admissions requirements than other schools.
Healthcare
Although we didn't use it as a filter, we also looked for ACEN (Accreditation Commission for Education in Nursing), CCNE (Commission on Collegiate Nursing Education), LCME (Liaison Committee on Medical Education, or COCA (Commission on Osteopathic College Accreditation) accreditation in any medical or nursing school partner programs that might be involved in the concentration.
Healthcare Administration
We also gave additional consideration to programs that have received the stamp of approval from CAHME (Commission on Accreditation of Healthcare Management Education), the organization dedicated exclusively to establishing the highest quality standards in healthcare management degrees. Since business is our bag, and MBAs are what we're looking at specifically, we didn't make CAHME accreditation a requirement for making the list, but we did give it some weight.
The combination of accreditations lets you know that you are getting an education that absolutely meets current industry standards that businesses have come to expect.
Narrowing The Choices By Looking For First Rate Programs
We didn't draw the line at accreditation, though. Instead, we went a lot deeper into each of the programs to pull out only those with other noteworthy distinctions and special value to prospective students.
Not All Healthcare Concentrations Are Created Equal
Because healthcare is so specialized, there are many schools that offer healthcare MBAs that are far more intensively focused than their other concentrations. We preferred these programs, which go further than just offering up three specialization courses that get tacked onto the general MBA track. Instead, they often offer the same courses in accounting, marketing, operations, and strategy as the core MBA curriculum, but present each of them very specifically in the context of the healthcare system, and often line up the kind of healthcare-specific internships that make the whole curriculum gel and that really prepare you for what's ahead in the real world.
Partnerships with Medical Schools and Schools of Nursing
We also looked hardest at business schools that also offered the concentration in cooperation with medical or nursing schools at the same college. There's no substitute for practical, real-world medical management experience in these programs, and proximity to a teaching hospital ensures that students get exactly that.
Reputation and Accolades
Beyond that, we picked programs with a sterling reputation in the community, the ones that routinely show up in top lists of graduate schools from the Princeton Review or U.S. News & World Report.
Student Experience
We also kept an eye out for the little extras, those features that really give a boost to your MBA experience or offer credentials that will make your resume pop when it hits an employer's desk. Whether it's sponsored conference attendance at healthcare symposia or a well-developed alumni network that will give you contacts throughout the industry to draw on, we pulled out those programs that come with a little something extra to give you more value for your time and money.
The Best Accredited Online MBAs with a Focus in Healthcare Administration
Then we wrapped it all up here, putting it together with information on admission requirements and the highlights we know every would-be MBA needs, and dropped in a link so you can check it out yourself. Go click on a few. You won't be disappointed.
---
This list features programs that our editorial staff hand selected to present as top recommendations. We believe the many aspects of a program that come together to create an exceptional student experience can't be reduced to numbers alone, so no formula was used to attempt to score or rank these programs. Instead, they represent our top picks based on a thoughtful review of the things we know mean the most to students. Each one of these programs offers something unique, and all come equally highly recommended. We stand behind the principal of editorial integrity and make these recommendations independently and without compensation.
---