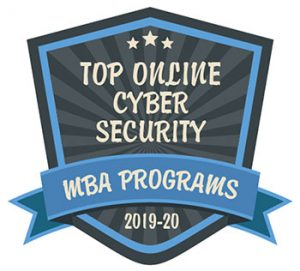 There's no getting away from the threat of cybercrime today, and corporations are feeling the bite more than most. It's estimated that by 2021 businesses will be absorbing $6 trillion annually in costs incurred from cybercrime, with another $1 trillion in defensive spending accumulating over the same period.
This threat, and the need to defend against it, has made information security management one the best things you can with an MBA. These threats are driving a new and unprecedented wave of demand in the business world for managers and senior executives with technical knowledge and security skills on par with their business acumen.
It's exactly this combination of knowledge and skills that you are getting with an information security MBA from an accredited online business school. With projections suggesting there will be some 3.5 million unfilled cybersecurity positions by 2021, that particular skillset represents a demand that is not being fulfilled… and this means big paychecks for the few who can bring that combination of skills to the ring. People like you.
<!- mfunc feat_school ->
Finding The Right Cybersecurity Concentration Takes Detective Work
There's no easy path to earning an MBA. That goes double for one with a cybersecurity concentration, a new specialization in a very old field of study. An MBA from a top school can run well into six figures and even more affordable options will make a big dent in your bank account and take a year or more to earn.
This combination of time and cost and a new field of study makes choosing the right program particularly important. Getting the best education for your money is a big deal, but so is finding a program that offers legitimate insight and up-to-date techniques in a constantly changing field like cybersecurity.
It's a big challenge to find programs that can meet both those goals. One way to cut out a lot of the options that aren't worth your time is to look at their accreditation status.
For this list, we only consider programs that hold a specialized business accreditation from one of the CHEA (Council for Higher Education Accreditation)- or ISO (International Organization for Standardization)-recognized accreditors operating in the business field:
AACSB– Association to Advance Collegiate Schools of Business
IACBE – International Accreditation Council for Business Education
ACBSP– Accreditation Council for Business Schools and Programs
These organizations investigate the quality and substance of business programs in higher education, looking at factors that include
Curriculum development
Faculty
Grading standards
Administrative processes and grievance procedures
Although any university worthy of the name has a general accreditation that already looks at such elements, these specialty accreditors evaluate them from a strictly business perspective, ensuring they meet the standards of employers operating in the real world.
Narrowing The List of Specialty-Accredited Cybersecurity MBA Programs
Although accreditation is a big step toward validating the business aspects of an MBA program, weighing the quality of the cybersecurity concentration track requires a separate approach. Technology itself is a highly specialized and fast-changing field that requires dedicated instructors and an up-to-date curriculum. And information security is even more specialized.
Reputation for Cybersecurity Research and Teaching
We focused on picking programs for the list from schools that also have some notable cybersecurity research or teaching credentials apart from the business school. Schools with cybersecurity studies institutes or that are named among the joint NSA/DHS Cybersecurity Centers of Academic Excellence (CAE) were a shoe-in for their cutting edge, nationally recognized security programs, for instance.
Business Core Curriculum
Of course, we didn't neglect taking a second look at the business skills taught by the program, either. An MBA is an MBA, after all… the advantages you offer to potential employers hinge on not just your cybersecurity skills, but your ability to integrate those skills with contemporary business practices and requirements. So we made sure every program on the list has a solid core of accounting, marketing, strategic planning, and human resources courses, all the basic elements of a high-quality business management education.
Online Platform for Delivering Course Content
We also made sure that every program has at least some online course offerings, and deliver those courses with the kind deftness you'd expect from a program with a technology component. This particularly important for cybersecurity specializations, not just because of the freedom and flexibility that online classes offer you, but also because it's a solid indication that the school is actually qualified to be teaching information technology topics. You don't go to an auto mechanic that doesn't change his own oil; you don't want to pick a cybersecurity specialization that doesn't maintain its own network integrity.
X-Factor
Finally, we looked for the little extras… schools that go out of their way to make things a little easier, or offer a little more realistic training, or have better connections in the industry. If a school offered courses that meet industry-recognized information security certification requirements, we gave them a little more weight; if they have student or professional groups that offer more networking or study opportunities, we noticed that too.
Industry Connections
Schools that have good industry connections and offer real-world, experiential learning opportunities are particularly favored here. There is no coursework in the world that can keep up with the evolution of real-world cyberthreats, so genuine practice in the field is the gold standard for getting the cybersecurity specialization training that employers are desperate for today.
The Best Accredited Online MBAs with a Focus in Cybersecurity
We can't tell you which online MBA in cybersecurity is the best bet for you, but we can tell you that you'll be able to find it here on this list. Explore these options and make your selection with confidence; every program shown here has earned its place among the very best in the nation.
---
This list features programs that our editorial staff hand selected to present as top recommendations. We believe the many aspects of a program that come together to create an exceptional student experience can't be reduced to numbers alone, so no formula was used to attempt to score or rank these programs. Instead, they represent our top picks based on a thoughtful review of the things we know mean the most to students. Each one of these programs offers something unique, and all come equally highly recommended. We stand behind the principal of editorial integrity and make these recommendations independently and without compensation.
---