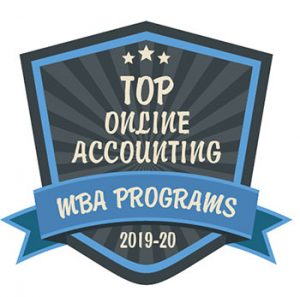 An MBA degree does it all. It's a tool that can advance your career in any type of business and in nearly any field, with business schools offering concentration courses that allow you to dive deep into everything from financial analysis to emerging and more obscure niche areas like cybersecurity. There are a lot of amazing things you can do with an MBA, and some of them have stood the test of time for generations and will always be fundamental to business.
One of the most traditional avenues for corporate-minded MBA students has always been accounting. Whether it's to fulfill the 150 credit requirement to sit the Uniform CPA exam or to get a better grounding in business accounts, it's one of the most popular concentrations and among the most valued in the business world. In fact, there are more business schools offering MBAs with a focus in accounting than in any other specialty.
And there's good reason for that, since numbers are exactly what make the business world go round. It's been a long time since accountants were relegated to the boiler room. The most skilled in the bunch now often occupy a seat in the board room as business leaders who are relied upon to incorporate complex accounting practices into strategic decision making that can influence the trajectory of an entire corporation.
In simplest terms, accounting is integral to keeping a company running. There are plenty of frequently asked questions when it comes to graduate degrees in accounting, but one thing is for sure – there will never cease to be a high demand for MBA graduates with business accounting skills in their repertoire.
<!- mfunc feat_school ->
The Importance of Choosing a Fully-Accredited MBA Accounting Concentration
There are big differences in the kind of opportunities you're going to have access to based on the quality and reputation of the program you graduate from. At a minimum, you want to attend a program at a business school that has been fully accredited by at least one of the three major specialty business accreditation bodies:
AACSB – Association to Advance Collegiate Schools of Business
IACBE – International Accreditation Council for Business Education
ACBSP – Accreditation Council for Business Schools and Programs
AACSB and ACBSP also have specialty accounting-only accreditation levels, which narrows the criteria even further from a look at the general business to curriculum to accounting-specific considerations.
There are a number of differences between the standards applied by these accreditors, and the types of schools and programs each accredits. However, each of them offers a guarantee of quality that's going to matter to you as a future accounting professional.
All of them evaluate elements such as:
Faculty hiring criteria
Research and teaching standards
Grading and administrative procedures
Admission standards and evaluation
International and cultural education aspects
Put all these factors together, and you know that any program that has been officially accredited by any of these agencies is going to knock it out of the park when it comes to offering accounting concentrations.
Which is why we put together this list of fully-accredited programs that offer rock-star accounting concentration options for your consideration. Still, there's a lot more to it than just accreditation.
A Nuanced Approach to Selecting the Accounting MBAs We Think Are Best
Although accreditation narrows the field somewhat, there are a ton of accredited MBA programs out there — nearly a thousand of them — and a much more nuanced approach is required to evaluate the ones that offer a focus in accounting specifically so we could isolate the ones we feel are the very best.
To narrow it down for you, we looked at a number of factors to pick the ones we really feel are worth your hard earned money.
General Business Curriculum
We started with the basics: a solid core MBA curriculum, covering all the bases from marketing to management. If you just wanted an accounting degree, you'd get an MAcc, right? The point of the MBA is to give you a comprehensive perspective on modern business management, and every single one of these programs has got that angle totally covered.
Accounting-Specific Accreditation and Curriculum Components
Then we went hunting for programs that had a little something extra in their accounting concentration. A separate accounting-specific accreditation was a winning element, but it wasn't the only thing. We looked for new takes on old accounting problems, schools that had expanded options or sub-specializations to help you stand out even more as an expert in your niche.
Contemporary Curriculum
And we looked for high-tech; no decent accounting system in the world today is maintained in old spiral bound ledgers. It's all in databases, and frequently in online, intricately connected real-time systems that make basic double-entry bookkeeping look like playing patty-cake. You better know what you are doing on day one when you show up to work on such systems. Programs that we felt gave due attention to accounting technology always got a second look.
Online Delivery Platform
We made sure that every single one of these programs has at least some online options to give you the maximum flexibility in planning and achieving your MBA goals, whether that's qualifying for the CPA exam or prepping for a career that involves decision-making in a Fortune 500 corporation – or both.
You know that in today's digital world, the physical location of the school isn't all that important, however the platform used to deliver curriculum online is something that can make or break a program. It could be argued that when talking about online programs, how the curriculum is delivered is just as important as the curriculum itself. We built this list to include programs with truly optimized curriculum delivery platforms. This is something that can make a program's home base far less relevant, allowing you to focus on simply choosing the best MBA, whether it's based out of Idaho or Florida.
Student Experience
Even as an online student, you'll find that some schools are set up better than others to make you feel like you're part of the community. Everyone knows this has a major impact on the kind of connections you'll make and what you'll take away from the program beyond hard business and accounting skills. We give you another hand making your choice by listing endorsements, special options like study abroad opportunities, and school clubs or centers specific to accounting.
The Best Accredited Online MBAs with a Focus in Accounting
You don't have to worry about quality when you're looking at any of the programs on this list. Every single one of them will qualify you for an executive accounting position in government, non-profits, or corporate America. All you have to worry about is finding the right fit, and you'll find all the information you need right here to do just that.
---
This list features programs that our editorial staff hand selected to present as top recommendations. We believe the many aspects of a program that come together to create an exceptional student experience can't be reduced to numbers alone, so no formula was used to attempt to score or rank these programs. Instead, they represent our top picks based on a thoughtful review of the things we know mean the most to students. Each one of these programs offers something unique, and all come equally highly recommended. We stand behind the principal of editorial integrity and make these recommendations independently and without compensation.
---