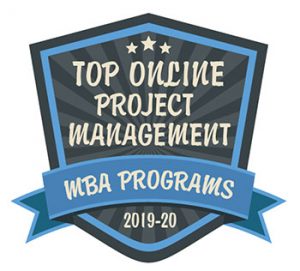 Project management has grown up alongside modern business management as a vital skillset and career niche that consistently lands the specialty on the list of the best things you can do with an MBA. The complexity of business initiatives today, both enabled and constrained by the realities of technology, financing, time, and staff, requires highly trained executives who can whip out a Gantt chart or run a stand-up meeting at the drop of a hat to keep everyone on track.
Getting that training means getting an MBA with a specialization in project management.
But picking an MBA program out of the nearly 1000 that are currently taught in the United States is a major project by itself. And it's a project with serious consequences; an MBA from a top ten business school will run well into six figures, and even more affordable programs are pretty pricey.
That price that can be well worth it. A degree from the right school hanging on your office wall can dramatically improve your career and salary prospects, sending you on a trajectory to the C-suite or onto top management tracks at the largest companies. But the wrong choice can leave you buried in debt and leave hiring managers unimpressed.
Whether it's IT project management, logistical concerns or any other area of business, well-versed managers are the linchpin when it comes to successfully pulling off any clearly defined business project that relies on getting dozens of moving parts in sync. If you have a talent for project management, then you probably have a pretty sophisticated approach to picking your MBA program. Spreadsheets, notebooks, a lot of sticky notes, right?
It's okay, we've got you covered. You can skip all that and rely on our list to provide you with the best online MBA programs in project management out there.
<!- mfunc feat_school ->
Picking What We Think Are the Best MBAs in Project Management
We launched our own project to identify those schools. And where we started was with program and business school accreditation.
You probably already know that any credible university in the United States has earned accreditation from one of the major regional or national accrediting bodies recognized by the Council for Higher Education Accreditation (CHEA) or the U.S. Department of Education (USDE).
That's a good starting point, but in business matters, it doesn't go nearly far enough. There are a lot of business-specific education issues that a university-level accreditor just doesn't know or care about.
So we went one better—we only looked at schools that had an additional, business-specific accreditation granted to either the business school it's housed in, the individual program, or both. There are three specialty business accreditation bodies that confer this kind of accreditation:
AACSB – Association to Advance Collegiate Schools of Business (grants accreditation to business schools) (certified by the International Organization for Standardization)
IACBE – International Accreditation Council for Business Education (grants accreditation to individual business programs) (recognized by CHEA)
ACBSP – Accreditation Council for Business Schools and Programs (grants accreditation to individual business programs) (recognized by CHEA)
There is a fundamental difference in the way these agencies approach accreditation: they look exclusively at business schools and individual business programs, not the entire university. It's the job of these organizations to drill down on standards and practices relevant to business education and evaluate things like quality of instructors and their level of industry experience, the way course content is developed and disseminated, and the research and teaching practices of the school.
That stamp of approval puts these programs a cut above everyone else right from the word go.
How We Picked The Top Choices For The List
We didn't just stop at accreditation, though. Project management is a more specific skill set that deserves a closer look.
Business Administration Core
It's true that you do need a great basic business education, and that's where we started. Every one of these programs turns out top-flight MBAs. We looked at the core education in accounting, finance, strategic planning, marketing, and leadership skills before we even touched the project stuff, and it's all solid.
Teaching to PMI Certification Standards
Then we got into the project management parts. We preferred schools that have some connection with the Project Management Institute (PMI), the industry-standard certification agency that offers the PMP and CAPM certifications. Best were those that both prepare you for those certs and allow you to take the exams as part of your studies, getting you out the door with both a diploma and an in-demand certification. Programs that check this box were easily in the running for our list.
Technology Integration
We also looked for schools that had strong technology or engineering programs tied to the business school. The nature of project management today involves working with software developers or engineers, serving as a sort of translator between their rarified areas of expertise and the more conventional parts of the company. The sooner you are exposed to and can learn their language and mindset, the more effective you will be in your professional project management role. This is something we feel is important enough that we gave it strong consideration to when making our final selections for this list.
X-Factor
Finally, we looked for programs that offer a little something extra. You don't always know what that is when you start your search, but you know it when you see it… an innovative team-teaching approach that puts you in contact with multiple instructors for a single class, maybe, or an international immersion experience that puts you on the ground in another country to learn new ways that other cultures use to handle common problems.
We also looked at the flexibility the programs offer. All of these have at least some elements that you can take online, whether you need to do so to fit classes in with your busy personal and professional life, or if you just don't want to be commuting to school all the time.
The Best Accredited Online MBAs with a Focus in Project Management
You'll find details on each program that made our list that covers all these points and more. We're confident you'll also find the best project management MBA for you among these schools.
---
This list features programs that our editorial staff hand selected to present as top recommendations. We believe the many aspects of a program that come together to create an exceptional student experience can't be reduced to numbers alone, so no formula was used to attempt to score or rank these programs. Instead, they represent our top picks based on a thoughtful review of the things we know mean the most to students. Each one of these programs offers something unique, and all come equally highly recommended. We stand behind the principal of editorial integrity and make these recommendations independently and without compensation.
---