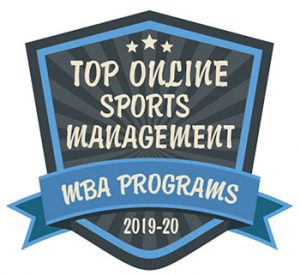 Sport management MBAs are a very tiny fraction of the MBAs earned in the United States and there are relatively few schools that offer them. That's fitting, because sport management is a field for the elite, and at the same time it's without a doubt one of the coolest things you can do with an MBA.
In a field this competitive, you'll need every bit of what you can get out of one of these programs, combined with a strong network and a lot of moxie if you want to get into the top ranks of team or venue management.
But just because there aren't that many schools that offer an MBA with a sport management concentration doesn't mean it's going to be easy for you to choose the right one. Instead, it means that each of them have very specific strengths, and the one you decide on is going to have major consequences for your intended career path. It's not like free throws… you only get one shot here.
So we're going to help you out… put up a little scouting report for you before you make your draft picks. This list of the top accredited sport management MBA concentrations in the country will help you make the big choice.
<!- mfunc feat_school ->
Why Accreditation Is So Important For MBA Programs
We started out by making sure that all the programs on the list are accredited by a specialty accreditation body.
Accreditation is a big deal for all MBA programs, and we mean full accreditation. That's not just the basic university accreditation, but an in-depth, program- or business school-specific accreditation conferred by one of the three specialty accrediting bodies that exclusively handle business programs:
AACSB – Association to Advance Collegiate Schools of Business
IACBE – International Accreditation Council for Business Education
ACBSP – Accreditation Council for Business Schools and Programs
Like the big regional accreditors that handle university-level accreditation, these associations send out examiners to conduct on-site observations, interview faculty and staff members, and go through reams and reams of paperwork. The process is so intense it can take years to complete.
What these agencies are looking at, however, is far more specific than just general admissions and academic standards. Instead, they are focusing in on business-related standards. That can include research and teaching processes, faculty qualifications, and curriculum development, among other things. Each aspect of the program is viewed with an eye toward how well it conforms to the current needs of modern businesses and their hiring practices.
Things We Considered When Selecting Our Favorite Sport Management MBAs
Accreditation was our first bar, but not the last.
Business Administration Core
The management side of sport management is important: understanding the financial, personnel management, marketing, and other universal components of business is what differentiates you from other agents or executives in the industry. We made sure that we are only recommending programs that have a solid core in the business necessities.
Connecting Business and Professional Athletics
But the sports industry is also highly specialized. A concentration has to not only present sports-specific education, but also tie in those basic business concepts to their more extended sporting applications. Sports marketing, for example, is operating in a very different world than conventional marketing campaigns. So we looked for concentrations that offered a bridge between the business essentials and their specific applications in the sporting world.
Industry Connections and Networking Opportunities
Naturally, we looked for programs that have strong ties to real-world sporting venues or professional teams. Networking is a big element in sport management, and it starts with your internship or capstone project placements. If those are available with major league teams, you're going to be rubbing shoulders with power players who can help your career enormously.
International Component
Sports aren't local anymore, either. We gave a nod to programs that went out of their way to incorporate international studies in their course options, particularly study abroad programs. A few weeks in a futbol stadium or cricket clubhouse seeing how multicultural sporting programs are put together can offer important perspective and terrific networking opportunities.
The Best Accredited Online MBAs with a Focus in Sport Management
Because you want and need flexibility in your education, we made sure to choose only programs that have at least some courses available online. Sport management is a pretty hands-on business, but learning about it doesn't have to mean sitting in a classroom somewhere when you can get the same lessons streaming across the internet.
All together, we're confident that what you are seeing in each of the programs that made our list is the future of the sports management business. And that means your future is headed in the right direction.
---
This list features programs that our editorial staff hand selected to present as top recommendations. We believe the many aspects of a program that come together to create an exceptional student experience can't be reduced to numbers alone, so no formula was used to attempt to score or rank these programs. Instead, they represent our top picks based on a thoughtful review of the things we know mean the most to students. Each one of these programs offers something unique, and all come equally highly recommended. We stand behind the principal of editorial integrity and make these recommendations independently and without compensation.
---