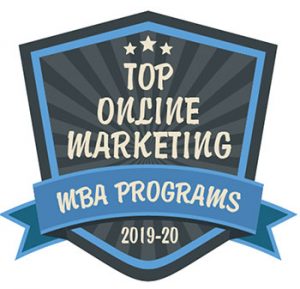 Getting ahead in business today involves more than just expertise. It involves presentation and salesmanship, strategic positioning and knowing your audience. It takes marketing.
That's just as true at the individual level as it is at the corporate level, which is why a master's degree in business administration with a concentration in marketing is like a two-for-one deal for ambitious executives: you get the skill set you need to take your career performance up a notch at the same time as you get the expertise to help a business succeed in marketing and sales.
You can't get that kind of full-spectrum education just anywhere, though. Marketing may be one of the most common concentrations offered in American MBA programs and remains one of the best things you can do with your MBA, but not all of those programs, or concentrations, are created equal.
Ironically, it's marketing that makes it hard to tell which of those programs are the best. Any school today can put up a killer website and farm links to get a good search ranking without putting a dime into the substance of their program.
That's why we've gone out and sorted through all the collegiate sales pitches and cut through the glossy website graphics to get you the real scoop on the top MBA marketing concentrations in the country.
<!- mfunc feat_school ->
Sorting Through MBAs with a Marketing Focus To Find The Very Best
How do we know they're the best? Well, it's because we took the time to dig deep and look at both the school and the program itself. And where we started the process was by looking at the levels of accreditation that they had been granted.
Accreditation in the United States comes at a few different levels. You probably already know that any university worth looking at holds regional or national accreditation from one of the major accrediting bodies recognized by the CHEA (Council for Higher Education Accreditation) or the U.S. Department of Education.
But you may not have realized that CHEA and even the International Organization for Standardization (ISO) also recognize accrediting bodies that operate exclusively in the business domain to accredit business schools and individual degree programs:
AACSB – Association to Advance Collegiate Schools of Business (ISO-certified)
IACBE – International Accreditation Council for Business Education (CHEA-recognized)
ACBSP – Accreditation Council for Business Schools and Programs (CHEA-recognized)
These specialty accreditors serve a similar function as the university-level regional and national accreditors, but look specifically at validating and affirming the credentials of the business schools housed within universities and the curriculum that comprise the programs they offer. While general academic standards are covered by other accreditors, these three dive into the heart of what makes an MBA graduate valuable to the business community:
Excellence in business research or teaching
Faculty with real-world business credentials and qualifications
Curriculum with up-to-date information about current business practices and techniques
These are all particularly important when it comes to marketing concentrations, because the field is evolving rapidly in response to online media migration and developments in data analysis. If you're looking at adding a marketing concentration to your MBA, you'd better be looking for a cutting edge program, and giving consideration to specialty accreditation is one way to help you find it.
How We Selected the Marketing MBAs We Believe are the Best
Even after you cut away all the unaccredited programs, though, there's still a big pile of marketing concentrations left to look at. So we cut it down even further to make sure only the very best made it onto the list.
Marketing for the 21st Century
We paid particular attention to schools that incorporated strong courses on digital marketing into their concentration track. It's well known that online and offline advertising spending is fast becoming equal… with the online component growing fast. It's not Mad Men out there anymore… any MBA graduating in the next few years who goes into marketing is going to spend far more of their time putting together slick online and social media campaigns than working on magazine layouts or even TV spots.
So we picked schools that are already pioneering new digital marketing techniques, and they got extra points if professors or on-campus centers engage in active research in the area.
Online Content Delivery System
And we didn't pick a program unless it offered at least some online class options… if someone is going to be teaching you about Internet marketing, it's a bad sign if they can't figure out how to set up a basic digital classroom!
International Influence
Another crossover effect from the digitalization of mass media is an increasing access to global markets. So we also looked for schools that offer courses abroad or other ways to offer students exposure to other cultures. Crafting marketing messages that resonate in multiple cultures is an art form, and it's one you only master with familiarity. Your graduate program is a place to get a head start on that.
MBA Nuts and Bolts
Finally, we took a close look at the core MBA curriculum, all the accounting, strategy, and HR nuts and bolts that go into the operation of any business. Marketing is only a part of the puzzle, and as an executive in branding and sales, it's vitally important that you can tie together your message with the capabilities and imperatives of the underlying business operation.
The Best Accredited Online MBAs with a Focus in Marketing
That leads us to the list below… the finest MBA marketing concentrations in the country, laid out for your consideration.
---
This list features programs that our editorial staff hand selected to present as top recommendations. We believe the many aspects of a program that come together to create an exceptional student experience can't be reduced to numbers alone, so no formula was used to attempt to score or rank these programs. Instead, they represent our top picks based on a thoughtful review of the things we know mean the most to students. Each one of these programs offers something unique, and all come equally highly recommended. We stand behind the principal of editorial integrity and make these recommendations independently and without compensation.
---