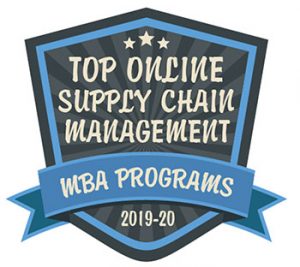 "Amateurs talk about tactics," the old saying goes. "Professionals study logistics."
Although the quote is often seen in military circles, it's relevant in the business world for the same reasons your professors all keep quoting Sun Tzu at you… capitalism is a kind of war, competition is a sort of battle, and the things that the military mind has been studying and perfecting over thousands of years are often equally true (though less bloody) in the context of commerce.
That's also why an MBA with a concentration in supply chain management can be one of the most valuable business degrees. While operations, marketing, and accounting all have their parts to play in the business world, nothing of any importance happens without basic supplier and product fulfillment. Factories grind to a halt, store shelves go empty… production and sales quotas go unmet.
It's a complicated business and widely accepted as one of the best things you can do with an MBA, so the extra education that comes with a concentration is highly valued in modern corporations. But not every MBA in supply chain management is created equal.
<!- mfunc feat_school ->
Why Finding a Fully Accredited MBA Matters
One way to start your search out on the right foot is to insist on looking at only fully accredited MBA programs. And we do mean "fully."
Every university in the United States worth looking at has at least a basic accreditation from one of the major regional or national accrediting organizations recognized by the Council for Higher Education Accreditation (CHEA) and the U.S. Department of Education (USDE).
But when it comes to an advanced education in business, that's not nearly enough. You also need to find a program that has received an additional stamp of approval from one of the three specialty business accreditors that CHEA or the International Organization for Standardization (ISO) recognizes:
AACSB – Association to Advance Collegiate Schools of Business (ISO-certified)
IACBE – International Accreditation Council for Business Education (CHEA-recognized)
ACBSP – Accreditation Council for Business Schools and Programs (CHEA-recognized)
Like the mainstream accrediting agencies, these three organizations all spend a crazy amount of time and energy digging into the details of a business school's curriculum, faculty, and administrative elements. Getting their approval is usually a multi-year effort that involves on-site visits, observations, and truckloads of paperwork (they probably have to hire their own logistics professionals just to manage it all!).
The big difference is that they drill down specifically in the context of business training. Looked at the research practices, teaching skills, and subject matter, the business accreditors ensure that the programs they validate remain aligned with the current and evolving demands of the American business community.
Selecting Our Favorite SCM and Logistics MBAs For Your Consideration
Full accreditation, both from general and specialty accreditors, is only the barest minimum you should look for, however. When it comes to an investment like an MBA, you want to make sure you are getting the best value and the right kind of schooling to match your career objectives.
Our list goes way past just the accreditation and dives into the other factors that make a logistics specialization valuable.
Global Perspective on SCM and Logistics
First and foremost was whether or not the program was strong on the realities of modern supply chain management. So many supply chains are international, or are impacted by international logistical factors, that we heavily weighted program that have global studies options. Not all your suppliers are going to speak English and not all your parts are going to come in on an eighteen-wheeler. You have to be prepared for the cultural realities of transnational commerce and transportation modes. We gave special consideration to any program that made an international component central to the program.
Strong Technology Component
We also looked for programs that embraced technology. In fact, all of the entries on our list have at least some options of taking online or hybrid courses. It's just one indicator that a school is comfortable enough with information technology that you can count on them to cover the latest high-tech developments in supply chain tracking and oversight. In an era where blockchain and RFID are sweeping into logistics programs, you need to pick a school that has moved away from clipboards and binders.
Industry Connections
Another factor we considered was industry relationships. These, in turn, were often driven by region… schools located in or near port cities, or around major manufacturing centers, tend to have partnerships with and internships at major global shippers. That's important for hands-on, experiential learning opportunities, and something we feel is very important for any SCM grad student to have exposure to.
There are also usually high-quality faculty with recent logistics experience attached to such schools, and strong, diverse alumni networks to provide support and connections after you graduate.
SCM and Logistics Expertise
Finally, we looked for little extras that enhance the logistics education at the school. A center for international business, special leadership programs, guest lecture series… anything to give you that extra edge you need to get ahead in today's international supply organization.
The Best Accredited Online MBAs with a Focus in Supply Chain Management
So here you have it – our pick for the very best online MBA programs with a focus in supply chain management. You can be confident that any program you might select from this list is well worth the investment of your hard earned money.
---
This list features programs that our editorial staff hand selected to present as top recommendations. We believe the many aspects of a program that come together to create an exceptional student experience can't be reduced to numbers alone, so no formula was used to attempt to score or rank these programs. Instead, they represent our top picks based on a thoughtful review of the things we know mean the most to students. Each one of these programs offers something unique, and all come equally highly recommended. We stand behind the principal of editorial integrity and make these recommendations independently and without compensation.
---