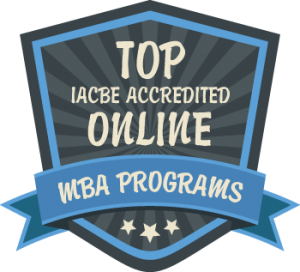 When searching for online MBA programs, you need to start with a baseline for quality. At the bare minimum you need to find a program that is fully accredited before you sign on the dotted line.
Fully online programs are awesome for price and convenience and they make doing all the cool things that are possible with an MBA more accessible. But as you look at the reality of piling on more student debt you need to know you're making the right decision before you pull the trigger. Any school can hire a WordPress guru to make their site sparkle. But that doesn't mean a thing when it comes to the brass tacks of the program.
Whether you're looking for an MBA that will give you a chance to break into the business world, or a mid-career executive MBA that will take your career to the next level, you should expect the business school you choose to be housed at an accredited university. And that simply means it should be recognized by either one of the six major regional accrediting agencies, or one of the few national agencies that accredit universities that offer their programs primarily online. This kind of university level accreditation covers all the basics—faculty qualifications, administrative processes, admissions, record-keeping. You'd be hard pressed to find an institution these days that hasn't satisfied this fundamental requirement.
When you're looking at an MBA, though, you also want to make sure the program has a specialized accreditation going for it. A specialized business accreditation means that all the specific curriculum in accounting, management, and leadership unique to advanced business programs have been vetted and meet the most exacting standards.
There are three specialty business accreditors recognized by the Council for Higher Education Accreditation (CHEA) or otherwise certified by the International Organization for Standardization (ISO). These agencies accredit either the business school as a whole, or individual programs and business curriculum within that school:
AACSB – Association to Advance Collegiate Schools of Business (accredits business schools) (ISO-certified)
ACBSP – Accreditation Council for Business Schools and Programs (accredits individual programs with a focus on curriculum) (CHEA-recognized)
IACBE – International Accreditation Council for Business Education (accredits individual programs with a focus on student outcomes) (CHEA-recognized)
Each of the agencies have different strengths and weaknesses when it comes to how they make their assessments. For this list, we've hand picked only the cream of the crop IACBE-accredited online MBA programs.
<!- mfunc feat_school ->
What is IACBE Accreditation?
The IACBE is the most recently formed of the big three business accreditation agencies, but it's nobody's little brother. Established in 1997, it quickly achieved recognition from the Council for Higher Education Accreditation and stepped up to take on an equal role in certifying college business programs for quality and consistency. Today, it accredits members in more than twenty nations worldwide.
IACBE accreditation is unique, however, in that it focuses on a different set of criteria than the AACSB or ACBSP. The IACBE looks at individual programs with a focus on student outcomes, making it somewhat more exclusive since only a select few programs from a quality business school might qualify for the IACBE stamp of excellence.
In the eyes of the IACBE, student outcomes are the ultimate measure for assessing quality. Their job is to determine whether or not a program is effective in producing graduates with a true mastery of business subjects.
As a smaller, newer accreditor, IACBE also creates options for smaller schools that the bigger, older agencies don't necessarily cater to. A small, private liberal arts institution might have just as good a business program as a big state school, though it might not have the same kind of resources to throw into the accreditation process and all the red tape that goes along with it.
IACBE is willing to work with those schools, looking more at what they achieve than what they achieve it with. While the other accreditors plunge deep into details about faculty background and research efforts at a school, IACBE focuses first and foremost on helping candidate schools develop an Outcomes Assessment Plan.
The IACBE isn't overly rigid when it comes to how a program turns out stellar grads, and makes it a point to allow for a certain level of flexibility in the way programs can meet their goals. This helps avoid a prescriptive, cookie-cutter approach to business education and allows IACBE-accredited institutions to innovate and maximize their efficiency.
That can mean lower costs and more interesting approaches that fit your individual goals more closely than a big, impersonal program would.
How Did We Choose Schools For This List?
On this list, you'll find the hidden gems of the American MBA field, the schools that try different things and succeed with them. Based on a thorough review of all the options in the MBA marketplace, these are the IACBE-accredited online options we feel are really worth considering.
Unique and Effective
We've taken pains to uncover those extra, unique features that might appeal to a smaller group of MBA candidates. Whether it's a unique specialization that no one else offers, or a business partnership program in a field that few schools bother with, you'll find it noted here.
Individualized Instruction and Student Engagement
And when you find that program that gives you something that no other school can offer, getting accepted is like coming home again… you'll end up with instructors who understand your learning style and fellow students who get you when it comes to the worldview you bring to the field of business. This level of understanding and camaraderie is what makes for the kind of supportive atmosphere and individualized learning experience that results in stellar outcomes.
Online Programs Only
Here we serve up a list of nothing but the finest online programs. Some may include a trip to campus for an orientation or a mandatory collaborative project or two, but none have the kind of onerous on-site requirements that would ever throw a wrench in your work or personal schedule.
Content Delivery
Because all these programs are offered online, we made an extra effort to dig into the underlying technologies and methodologies used for delivering course content and getting you involved in projects and discussions. Online doesn't mean the same thing from one business school to the next. You need to know, for example, whether classes are streamed at a particular time or are available asynchronously, at your convenience. We dive into the timing and course options so you know exactly what you're getting into with each program.
Top Online MBA Programs with Specialty Business Accreditation From the International Accreditation Council for Business Education (IACBE)
No matter what choice you make, you can be sure that an IACBE-accredited program will get your resume noticed anywhere in the modern business world.
---
This list features programs that our editorial staff hand selected to present as top recommendations. We believe the many aspects of a program that come together to create an exceptional student experience can't be reduced to numbers alone, so no formula was used to attempt to score or rank these programs. Instead, they represent our top picks based on a thoughtful review of the things we know mean the most to students. Each one of these programs offers something unique, and all come equally highly recommended. We stand behind the principal of editorial integrity and make these recommendations independently and without compensation.
---