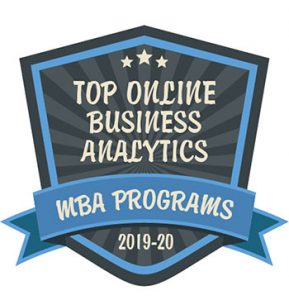 The Master of Business Administration degree was originally created as a forward-looking, modern, scientific approach to the management of commerce. The first MBA degree, offered by Harvard's Graduate School of Business Administration in 1908, taught a curriculum largely based on the precepts of Frederick Winslow Taylor, one of the first management consultants and an important voice in the scientific measurement and improvement of industrial efficiency.
In that sense, all MBA programs today have an important ground in analysis and analytical methods. Using the numbers to find deeper strategic insights is one of the coolest things you can do with an MBA, and it's also one of the most fundamental in modern business. Decision-making on the basis of carefully observed facts is the cornerstone of scientific management… a philosophy that has more or less taken over modern principles of management.
But although Taylor and the first MBA graduates were at the forefront of business analysis as a mechanism to increase efficiency and profit, they wouldn't even recognize the leaps and bounds analytics have made over the past 100 years.
Today, the vast amount of data that can be automatically monitored and generated by information technology massively overwhelms traditional methods of tracking and processing. The enormous power and capabilities of computer-assisted and computer-mediated analytics has spun off into a distinct sub-specialty in business administration. In some ways, an MBA with a concentration in business analytics is the MBA that remains most true to the original vision of the degree.
<!- mfunc feat_school ->
Analytics Remains The Heart of Business Management
With something like 1000 accredited MBAs available, you almost need an MBA in analytics just to analyze all the programs out there!
But you can relax, we've put in the time and run the numbers so you don't have to. You want an MBA in analytics? We put together a list of the best in the United States.
What makes them the best? Well, for starters, they are all programs that have been fully accredited, not just by one of the major regional accrediting bodies that offer quality controls on all institutions of higher education, but specifically by one of the three exclusive business accreditations agencies that specifically validate business schools and individual programs:
AACSB – Association to Advance Collegiate Schools of Business
IACBE – International Accreditation Council for Business Education
ACBSP – Accreditation Council for Business Schools and Programs
Like the big regional accreditors, each of these agencies looks at elements like faculty credentials, curriculum design, and administrative procedures and standards that go into a program. The big difference is that when they look at all those elements, they are looking at them from a business perspective. With major industry ties to active corporations and trade groups, they know what businesses are looking for in management material today, and they make sure these programs are producing graduates with the skills to fill those positions.
Our Selection Criteria
Of course, there are still a ton of MBA programs with analytics concentrations even after you filter out those that aren't accredited. So how did we narrow it down to the handful on this list?
Business Curriculum
First, we made sure they fell into the classical mold for core MBA curriculum. If the MBA was originally built around analysis, it was done so on a firm foundation of accounting and financial knowledge, decision science, and marketing theory. If you want to apply your analysis to real-world challenges, you had better have the right context to put it in—that means rigorous, time-tested lessons in all of those departments.
Accessibility and Online Curriculum Delivery Platform
Next, we looked at the class format and delivery options. If the school didn't offer at least some courses online, we chucked it. In today's fast-paced, connected world, you can't take an analytics specialization seriously if the school offering it can't even put together an online option for busy professionals. And even then, not all online programs are created equal. The technology platform that you interface with has a major impact on your experience as a student, and even with how well you assimilate the information coming your way. This is why we did our best to select only programs that have been at the online course content delivery game long enough to hone their platform and provide students with something truly engaging and effective.
Cold, Hard Analytics
Then we took a hard dive into the specialization courses themselves. Again, technology was a big factor in our selections. Analytics doesn't happen on paper today; it happens at light speed in massively parallel processing architectures running bleeding-edge code on diverse data structures. If a program can't help you at least get familiar with the underlying tech, it's not for you.
Reputation and Third Party Accolades
We also looked at the reputation and ranking the school itself holds in the business community, taking into account rankings by U.S. News & World Report, Princeton Review and other perennial favorite b-school lists. If there were clubs or campus-based centers for study and research, that was a big plus, too.
Faculty Engagement
Finally, we prioritized experiential teaching techniques. Programs that put you together with a real-world mentor for guidance, or offered internships or integrative capstone projects that put genuine business data into your hot little hands for analysis got higher marks. There's nothing that can exactly simulate what it takes to crunch dirty real-world datasets and come up with something definitive enough to be useful in formulating a business strategy, so you want a school that will let you go toe-to-toe with live data.
The Best Accredited Online MBAs with a Focus in Business Analytics
In the list below, you'll find programs that check all these boxes, along with the raw data on admissions requirements and special features that made us sit up and take notice. We're confident the right program for any graduate student looking to study business intelligence can be found on this list, and that you'll also find all the information you need to help you in making that selection.
---
This list features programs that our editorial staff hand selected to present as top recommendations. We believe the many aspects of a program that come together to create an exceptional student experience can't be reduced to numbers alone, so no formula was used to attempt to score or rank these programs. Instead, they represent our top picks based on a thoughtful review of the things we know mean the most to students. Each one of these programs offers something unique, and all come equally highly recommended. We stand behind the principal of editorial integrity and make these recommendations independently and without compensation.
---