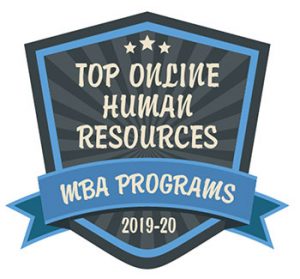 The rise of assembly-line work in the industrial era made it fashionable among business executives to view labor as a commodity. Workers could be plugged in, swapped out, exchanged between positions, just like gears and belts in the machines they operated – all according to strict principles of scientific management.
But when the digital era hit, that attitude came to a screeching halt. Programmers, designers, analysts… it turned out they weren't all created equal. Some were better than others; none appreciated being treated like a cog in a machine.
It's been a long time coming, but corporations are finally recognizing that human capital is every bit as valuable as financial capital. And that fact has brought HR to the forefront again as one of the best things you can with your MBA.
Since they've come to that realization, corporations are scrambling to find candidates for their executive ranks who have the unique combination of skills, knowledge, and empathy to foster and manage that human capital. Advanced careers in human resources rely on HR pros with an intimate knowledge of how business gets done, but who also have the soft skills to manage people and the hardcore legal and regulatory chops to make sure it's done the right way.
That's where advanced degrees such as the MBA with an HR concentration or even the conventional master's in human resources can come into play. Taking a solid core of accounting, finance, strategy, and marketing education and wrapping it in a fuzzy blanket of communication and leadership skills, an HR-focused MBA gives you the tools to not only understand the engine that drives business, but also the skills and knowledge to fuel the staff that run it.
<!- mfunc feat_school ->
How to Find The Best MBA Programs With HR Concentrations
You know HR-qualified executives are a hot commodity, but how do you get to be one of them? Well, that's why you're here… finding the right MBA program with an HR concentration just became your life's mission, and we're here to help.
For starters, you probably already know you need a degree from an accredited university. Any institute of higher education in the U.S. that hasn't been blessed by one of the major regional or national accrediting bodies recognized by the CHEA (Council for Higher Education Accreditation) or USDE (U.S. Department of Education) isn't even worth looking at.
What you might not know, though, is that organizations like CHEA and even the International Organization for Standardization (ISO) also certify several specialty accrediting agencies, ones that focus specifically on business schools, or even individual business degrees. Those agencies have more institutional knowledge of  business schools specifically, higher standards, and more specific criteria than regional accrediting bodies that offer university-level accreditation.
In the field of business, there are three different agencies that offer those accreditations:
AACSB – Association to Advance Collegiate Schools of Business (accredits entire schools of business) (ISO-certified)
IACBE – International Accreditation Council for Business Education (accredits specific programs, including MBAs) (CHEA-recognized)
ACBSP – Accreditation Council for Business Schools and Programs (accredits specific programs, including MBAs) (CHEA-recognized)
They look at curriculum, instructors, administrative procedures, admissions and grading, and dozens of other factors, all with a very specific consideration: do those qualities exemplify the standards the American business community demands in job candidates?
When the answer is yes, the program gets accredited.
And since you want to meet those standards, you know you need to pick one of these programs.
How We Drilled Down to the Very Best Accredited HR MBAs
Accreditation isn't the end of the road. It's just the first filter. A school that passes that bar gets a second look, but you're going to want to make it a close look. You want to know about other factors, things like:
Entrance exam requirements
Class delivery formats
Philosophy of teaching
Reputation in the community
Clubs or centers for networking and support
We started with a list of all accredited MBAs with HR concentrations and went through them one by one looking at all of those elements and more.
Accessibility and Opportunities to Engage with Classmates and Faculty
First, we culled the ones that didn't offer at least some of their courses online or partially online… in this day and age, you deserve the kind of flexibility in your studies that only modern technology can offer.
Then we started looking at the little extras. The programs that had professors with years of experience and mad skills in particular aspects of HR. The learning management systems that were easy-to-use, dynamic, and yet still offered complete and seamless connection to fellow students and faculty.
MBA Core
We eyeballed the core courses in the MBA sequence. You want a full education in human resources management, but you don't want to neglect your studies in plain old management, either. We made sure the instruction in marketing, accounting, business strategy, planning, and the like were all up to par with the best business programs in the country.
SHRM-Aligned Curriculum
Though there is no accrediting agency in place that looks exclusively at HR graduate-level curriculum, there is something even better. Business schools have the option of aligning their HR management programs with SHRM (Society for Human Resource Management) curriculum guidelines, and this includes MBA programs with an HR focus. Programs with SHRM-aligned curriculum are widely recognized as meeting the gold standard in quality when it comes to preparing graduates with the skills modern businesses demand. It's purely voluntary, and isn't technically a form of accreditation, but it is the furthest an HR program can go to meet the highest industry standards, so you better believe it was something we gave weight to when putting this list together.
Contemporary and Innovative Teaching Philosophy
Finally, we dug into the concentration courses and support. Schools that had innovative approaches to teaching modern HR principles went right to the top of the list. Those that offered experiential learning opportunities, where you could put theory into practice through internships or consulting projects in HR, also got gold stars. If they went into some unique angle, a hot topic like international HR, where multiculturalism and the effects of a global workforce on the field were explored, it was another big plus.
The Best Accredited Online MBAs with a Focus in Human Resources
In the end, we feel strongly that this is the list you should work from in your search for the best of the best in business education with an HR focus. Not all these programs are the same, but they are all of the highest quality, and each of them offers a unique value in your quest to earn a career-boosting degree that combines business administration and HR.
---
This list features programs that our editorial staff hand selected to present as top recommendations. We believe the many aspects of a program that come together to create an exceptional student experience can't be reduced to numbers alone, so no formula was used to attempt to score or rank these programs. Instead, they represent our top picks based on a thoughtful review of the things we know mean the most to students. Each one of these programs offers something unique, and all come equally highly recommended. We stand behind the principal of editorial integrity and make these recommendations independently and without compensation.
---